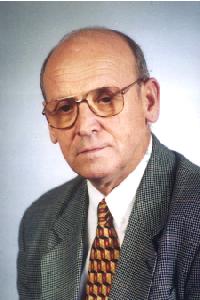 Marek Trojanowicz was born in 1944 in Warsaw. He has obtained M.Sc. (1966), Ph.D. (1974) and D.Sc. (1981) degrees in Department of Chemistry, University of Warsaw in the field of Analytical Chemistry. Since 1989 he is head of the Laboratory for Flow Analysis and Chromatography in University of Warsaw. Since 1991 he is titular professor of chemistry in Department of Chemistry, University of Warsaw, and since 1992 also professor of Chemistry in Department of Analytical Chemistry in the Institute of Nuclear Chemistry and Technology in Warsaw.
His post-doc one year studies he carried out in Tohoku University, Sendai, Japan and spend also 2 years as Research Associate in the University of New South Wales, Sydney, Australia. For several month study stays as Visiting Professor he has been invited to University of Michigan, USA, Strathclyde University in Glasgow, UK, University of Tasmania, Australia, University of Sao Paulo, Brazil, University of Münster, Germany, University of Rome "La Sapienza", Italy, and University of Graz, Austria. In years 2003-04 he was appointed for six months as a Senior Fulbright Fellow in University of California at Riverside, USA. With his research group from Warsaw University he took part in four research projects financed by European Commission, and served as expert in 5th Framework of European Commission.
His scientific interests include flow analysis and automation of chemical analysis, ion-selective electrodes, biosensors, ion-chromatography, capillary electrophoresis and the use of ionizing radiation for degradation of organic pollutants for environmental protection. He is author of 230 scientific papers in international analytical journals, two monographs on automation in analytical chemistry and on flow-injection analysis and 9 Polish and foreign patents. He is member of Advisory Boards of international analytical journals Journal of Biochemical and Biophysical Methods (Elsevier), Analytical Letters (M. Dekker), Microchimica Acta (Springer) and Journal of Flow Injection Analysis (Japan). In years 1992-2003 he was Scientific Secretary of the Committee for Analytical Chemistry of Polish Academy of Sciences. He is member of Polish Chemical Society, International Electrochemical Society and Society of Environmental Toxicology and Chemistry.
e-mail:trojan@chem.uw.edu.pl


LIST OF SELECTED PUBLICATIONS
Books
M. Trojanowicz (Ed.), Advances in Flow Analysis, Wiley-VCH, Weinheim, 2008, 702 pp.
M. Trojanowicz, Flow Injection Analysis. Instrumentation and Applications. World Scientific Publishing, Singapore, 2000, 481 pp.
M. Trojanowicz, Automation of chemical analysis (in Polish), WNT, Warsaw, 1992, 514 pp.
Selected Chapters in books, reviews
M. Kaniewska, M. Trojanowicz, Chiral biosensors and immunosensors, Chapter in P.A. Serra (Ed.) Biosensors - Emerging Materials and Applications, InTech 2011 pp. 99-122.
D. Szydłowska, M. Trojanowicz, Microcystins: Chromatographic and capillary electropho-retic determination, Chapter in J. Cazes (Ed.), Encyclopedia of Chromatography, CRC Press, 2010, Vol. II. pp. 1479-1490.
M. Trojanowicz, Main concepts of chemical sensing, Chapter in R. Potyrailo, V. Mirsky (Eds) Combinatorial Methods for Chemical and Biological Sensors, Springer, 2009, 25-60.
W. Maruszak, M. G. Schmid, G. Gübitz, E. Ekier, M. Trojanowicz, Separtion of enantiomers by capillary electrophoresis using cyclodextrins, Chapter in "Methods in Biotechnology: Chiral Separations, Methods and Protocols", Humana Press, 2004, 275-289.
M. Trojanowicz, Analytical applications of planar bilayer lipid membranes, Chapter in H. T. Tien and A. Ottova-Leitmannova (Eds.) Planar Lipid Membranes (BLMs) and Their Applications, Elsevier, Amsterdam 2003, 807-845.
M. Trojanowicz, A. Latoszek, E. Poboży, Analysis of genetically modified food using high-performance separation methods, Anal. Lett., 43 (2010) 1653-1679.
M. Trojanowicz, Modern chemical analysis in archaeometry, Anal. Bioanal. Chem., 391 (2008) 915-918.
M. Trojanowicz, Analytical applications of carbon nanotubes, Trends in Anal. Chem., 25 (2006) 480-489.
Selected recent research papers
E. Poboży, E. Król, L. Wójcik, M. Wachowicz, M. Trojanowicz, HPLC determination of perfluorinated carboxylic acids with fluorescence detection, Microchim. Acta, 172 (2011) 409-417.
A. Bojanowska-Czajka, M. Trojanowicz, A. Gałęzowska, H. Nichipor, Z. Zimek, J.-L. Marty, G. Nałęcz-Jawecki, Radiolytic removal of selected pesticides from waters using ionizing radiation, Sep. Sci. Technol., 45 (2010) 1651-1657.
J. Musijowski, B. Szostek, M. Koc, M. Trojanowicz, Determination of fluoride as fluorosilane derivative using reversed-phase high performance chromatography with UV detection, J. Sep. Sci. 33 (2010) 2636-2644.
I. Rzygaliński, E. Poboży, R. Drewnowska, M. Trojanowicz, Enzymatic in-capillary derivati-zation for glucose determination by electrophoresis with spectrophotometric detection, Electrophoresis, 29 (2008) 1741-1748.
I. Surowiec, B. Szostek, M. Trojanowicz, HPLC-MS of antraquinones, flavonoids and their degradation products in analysis of natural dyes in archaeological objects, J. Sep. Sci., 30 (2007) 2070-2079.
A. Bojanowska-Czajka, P. Drzewicz, Z. Zimek, G. Nichipor, G. Nałęcz-Jawecki, J. Sawicki, C. Kozyra, M. Trojanowicz, Radiolytic degradation of pesticide 4-chloro-2-methyl-phenoxy-acetic acid (MCPA) - experimental data and kinetic modelling, Radiat. Phys. Chem., 76 (2007) 1806-1814.
J. Musijowski, M. Trojanowicz, B. Szostek, J. L. Costa Lima, R. Lapa , H. Yamashita, T. Takayanagi, S. Motomizu, Flow-injection determination of total organic fluorine with off-line defluorination reaction on a solid sorbent bed, Anal. Chim. Acta, 600 (2007) 147-154.
M. Campas, D. Szydłowska, M. Trojanowicz, J.L. Marty, Enzyme inhibition-based biosensor for the electrochemical detection of microcystins in natural blooms of cyanobacteria, Talanta, 72 (2007) 179-186.
M. Wcisło, D. Compagnone, M. Trojanowicz, Enantioselective screen-printed amperometric biosensor for determination of D-amino acids, Bioelectrochemistry, 71 (2007) 91-98.
M. Trojanowicz, P. KoŸmiński, H. Dias, C. M. A. Brett, Batch injection stripping voltammetry (tube-less flow-injection analysis) of trace metals with on-line sample pretreatment, Talanta, 68 (2005) 394-400.
M. Masar, L. Wójcik, D. Kaniansky, M. Trojanowicz, Zone electrophoresis separation of perfluorcarboxylic acids on a chip with conductivity detection, J. Sep. Sci., 28 (2005) 1271-1277.